20 Best iPhone Apps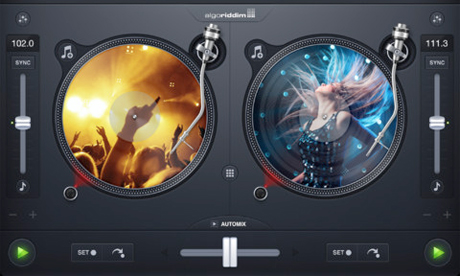 It's time for our weekly roundup of brand new and notable
apps
for
iPhone
, iPod touch and
iPad
devices.
It covers apps and
games
, with the prices referring to the initial download: so (Free) may mean (Freemium) in some cases. There's a separate roundup for Android apps, which was
published earlier in the day
.
For now, read on for this week's iOS selection (and when you've finished, check out previous
Best iPhone and iPad apps
posts).
Developer Algoriddim made one of the first popular DJing apps for iOS with the original djay. Now it has a sequel, including a new user interface to flick between virtual decks and track waveforms. There's also a built-in sample player and recorder, and useful features for pro DJs and bedroom (digital)steel-wheel spinners alike. The link above is for the more-expensive iPad version, but the
iPhone version can be found here
.
iPhone / iPad
This is the latest iOS game from Square Enix: an atmospheric action-RPG with a vampiric theme, impressive graphics and a 12-hour main story to play through. There's also a neat feature to take a photograph of your own face and map it onto your character – in a way that doesn't look as freakish as you might expect – plus the ability to import your friends' characters to play alongside.
iPhone / iPad
This is a relaunched version of an older app called Doodlecast, aimed at helping 2-6 year-olds turn their drawings into video stories. It works by getting the child to draw a picture while talking, records their finger-strokes and words, then exports the results as a video that parents can share with friends and family, or simply play back with their kids. 36 "drawing prompts" are provided to give children ideas, too.
iPhone / iPad
The Treehouse website has been teaching people to code for a while now, but now it has a spin-off iPad app to take the process to
Apple
's tablet. Subjects and languages covered include Objective-C, HTML, CSS, JavaScript, PHP, Ruby, and SQL, but it requires a Treehouse membership to run.
iPad
This is the kind of app that may well baffle anyone older than 25, but delight plenty of younger people. It's an app for taking two photos: one with the iPhone's front camera and one with its rear one, then sharing them together in a single pic on social networks.
iPhone
Productivity app Todoist's latest update adds native tablet functionality. It's a to-do list and task-tracking app that synchronises with the Todoist website, with a premium account option to get text, email and push-notification reminders, among other features.
iPhone / iPad
Developer PlayArt's previous apps have focused on introducing art to children. This new hidden-object game is aimed at a broader age-range, but still with the ambition to get people looking at famous artworks in a new light.
iPad
The transfer rumour-mill is cranking up, clubs are playing pre-season friendlies around the world... The new football season is on the horizon, bringing with it the traditional Saturday-night TV highlights. Match of the Day's spin-off magazine is going digital at just the right time, then: selling individual issues for £1.49 via in-app purchases.
iPhone / iPad
This is a very helpful-looking app designed for mothers-to-be, with 3D videos showing how babies develop in the womb, lots of advice, discounts on products and a database of questions and answers on all things pregnancy-related.
iPhone
Sky Tourist is the most characterful new iOS game released this week: a colourful action-puzzler where you guide hero Petey Pendant through a succession of physics-based puzzles – 75 levels in all. An indie treat.
iPhone / iPad
Danish children's picture-book The Book of Holes' schtick was a hole through the middle of every page. That idea has transferred nicely to digital, with an app that's "exploring everything from the wonders of the universe to the most mundane of bodily functions". As with the book, the app is designed to be used by parents and children together, rather than just the latter.
iPad
I'm getting photo-sharing app fatigue in 2013, but there is still scope for innovation (and
useful
innovation, more importantly) around how we store our photos. Loom aims to be "one library, seamlessly organized and accessible from anywhere", with up to 5GB of space available for free. However, it's also the latest app asking users to "reserve a spot" rather than start using it right away: you can do that
on its website
.
iPhone / iPad
Asterix. Slapping. That's a good two-word pitch for a
mobile
game if ever I heard one. The indomitable Gaul makes his return to iOS in this quirky casual game featuring many of the familiar characters and locations from the Asterix books.
iPhone / iPad
Something for parents with young children on the go in London, this: "the map app for parents on the go" with listings for pram-accessible tube stations, baby-changing venues and more than 1,000 cafes, libraries, museums and shops that are baby-friendly. It also pulls in live service updates for the tube, to help avoid hot, cramped delays.
iPhone
YouTube has its YouTube Capture app for easy shooting and uploading of videos, and now rival Dailymotion has its own equivalent. Expect filters, simple editing tools to tweak contrast and brightness, and a choice of formats to upload to the video service.
iPhone
Bloxy Girls looks a lot like a virtual version of Lego, it's fair to say. Aimed at girls, it gets them to build structures from 3D bricks, then populate them with miniature figures and animals. More than 110 different bricks are available, so there's plenty of freedom for creativity.
iPhone / iPad
Dear Diary, what apps are available to help me create a digital diary? Well, this one for starters. It imports your photos, tweets, Instagram pics and Foursquare check-ins, while also letting you manually add thoughts, then tag them with locations and photos. The price includes a year's subscription to Narrato, which stores your journal entry on its servers.
iPhone
More storage here, but aimed at parents. Keepy invites them to take photographs of children's drawings, models, certificates and school reports, tag them with dates, and even record their voice talking about it. Everything can then be stored in Dropbox for safekeeping, and shared with family and friends when desired.
iPhone
Magazine publisher Bauer Media is behind this digital one-shot mag-app covering the history of Everest ascents: photos, interviews with climbers and profiles of the likes of Edmund Hillary. The app is a spin-off from hillwalking magazine Trail, who can presumably be relied upon to know their stuff in this area.
iPhone / iPad
Water-based racing game Riptide GP's sequel sees you race nine hydro jets through a range of courses in single-player career mode as well as online multiplayer races. Excellent graphics, good handling and a decent sensation of speed make it very fun.
iPhone / iPad
That's this week's selection, but what do you think? Make your own recommendations, or give your views on the apps above, by posting a comment